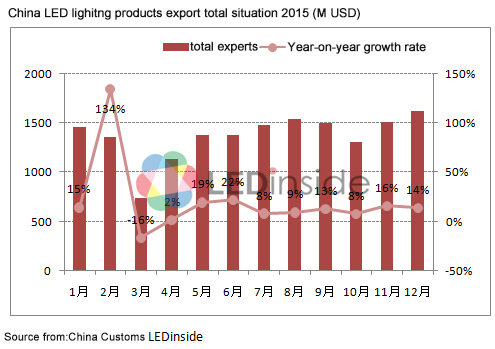 LED lighting market scale is rising up, Global LED lighting marketing trend 2016 reported by LEDinside indicate that LED market scale have reached 257 billion dollar in 2015, Permeability have reached 31%,and it will be reach 305 billion dollar, and permeability will reach 36%.

Researcher WuYingJie indicate that the price of alternative light source products (including tube & bulb),profits is not good. So the manufacture have start to move the target to professional lighting field, and he make wish of each country government can build domestic demand policy, to stimulate public construction spending and the new case development, at that time the potential of project lighting fixture & commercial lighting fixture & architectural lighting will be great.

Developing country like Europe, America, Japan are keeping developing to professional lighting direction, hope to occupy a place through product diversification and differentiation. While developed counties will have amount of business opportunities due to government policy giant project and economic development. He indicate that America and India this two countries will become the most strongest country in 2016 global lighting market.

America demand is strong in 2015 global lighting market, and commercial lighting, engineering lighting, plants lighting, marine lighting will become the main lighting market.

Many manufactures in America is striving to develop LED lighting, under the LED lighting products amount is keeping rising, the demand of LED commercial lighting and engineering lighting is strongly developing, with Troffer, LED panel light, LED tunnel light,LED high bay light highest developing speed. In niche lighting aspect, LED grow light application is the most worthy of attention, mainly used to planting marijuana.

Emerging markets of LED lighting, such as India, Africa, Southeast Asia is closely related to the government policy and market cases. Take India for example, India government is plan to tender 2 hundred billion bulb before 2016,in addition, India government make opening bidding of LED street light. The LED light market will be continuous hot in 2016.